Aaaaaaaaaaaaaaaaaargh so the Drunk Drive vinyls are out in the big bad world. We've got 500 of these to shift so please please buy one (you'll get a free Mp3 with it) as otherwise we'll be forced to use them as expensive place mats. The link is on the right hand side of the page here >>>>>>>>>>>>>>>>>>>>>>>>>>>>>>>>>>>>>>>>>>>>>>
In preparation for the release of the digital version on July 4th we had some rather lovely reviews, most notably this one from Beehive City, who were at our Shoreditch House gig last week. Thanks guys!
http://www.beehivecity.com/music/new-band-jenners-field-prepare-for-life-in-the-fast-lane-43531/
On the flipside the reception for our hair hasn't been quite so good. The lovely people at unpeeled blog seem to have taken offence with our barnets, taking for the headline of their piece "
STUPID HAIR PRODUCES ACE SINGLE
". Basically all of us at Jenners Field HQ love this, so thanks Unpeeled for lightening up our lives. Never before has our hair been treated with such wonderful personification! See it in all its glory
HERE
In other news this week Jed bit off more than he could chew in the drinks department.....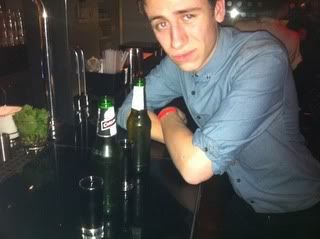 And I found out that my dog actually had alien powers......COOL
Remember to come see us headline the Barfly on 20th June, it will probably be rad. Although after recent reviews our collective hair is considering strike action....we'll see where that goes!
Much love
Laurie -JF-
xx